Emma Lashmar crafts unique
& functional wares in blown glass
to elevate the everyday.

Locally made by the artist's hand in Boorloo / Perth, these pieces have been designed with quiet personal ritual & shared celebratory moments in mind.
Connect to the history of artisanal glass, expressed in contemporary design by a Western Australian maker.
AGWA Design Store
ART GALLERY OF WA
Perth Cultural Centre
Open daily Weds - Mon 10am-5pm,
Closed Tues, Good Friday & Xmas
AGWA Design Store online
Juniper Galleries
Darlington, WA
41a Dalry Road, Darlington
Open every weekend 10am-5pm,
& otherwise by appointment
Juniper Galleries online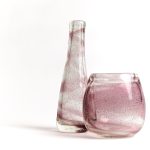 Goolugatup Heathcote
APPLECROSS, WA
58 Duncraig Rd, Applecross
Open 10-4 daily
public holidays
Goolugatup Shop online
Wondering how to care for glass wares?
Ready to realise your concept in glass?